TTS RoRo, Cruise, Navy products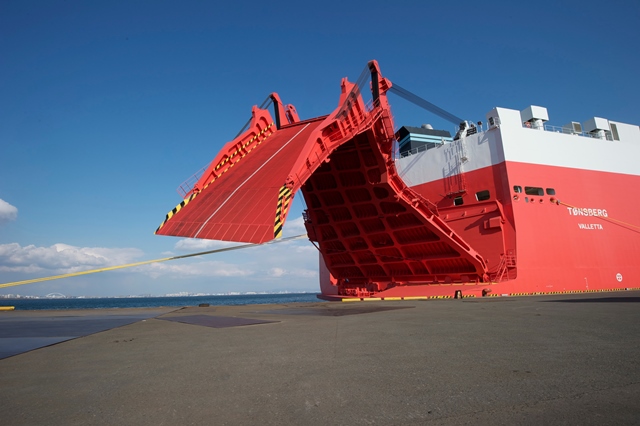 RoRo
MacGregor supplies both ship-based and land-based TTS installations designed to ensure smooth cargo handling. Ship based equipment typically includes stern ramps for access to a vessel's main lower and upper decks, as well as ramp covers to protect access to the lower hold and internal areas of these vessels. We also have many references for installation of large quarter ramps, internal ramps for distribution of cargo between decks, liftable/hoistable car decks, and watertight ramp covers and bulkhead doors to ensure the required compartmental division for water- and gas-tight integrity.
Cruise ships
Today's cruise ships are very large vessels with high demands on logistic systems and passenger and cargo access equipment. They also operate in environmentally sensitive areas. Therefore MacGregor has developed reliable, fast and environmentally-friendly doors and platforms that are optimised for the cruise ship industry and available with either hydraulic or electric operation. MacGregor can also provide land based logistic systems, such as gangways and provision and luggage handling systems.
Naval vessels
In addition to supplying the world's merchant fleet, MacGregor has a long history of designing and supplying equipment for navies worldwide. Vessel types such as logistics support ships, all types of docking and landing ships and pre-positioning ships are covered by the TTS product portfolio.
Typical TTS equipment installed on these vessels are ramps of all types, side loading systems, cranes, deck machinery, hatch covers and internal doors and lifts. OPV's and other combat vessels are also well suited to TTS equipment due to the increased emphasis on hull access points such as hangar doors and USV/UUV Mission Bay doors.
MacGregor Naval expertise makes it the ideal partner for government newbuild and conversion projects.


RORO, CRUISE, NAVY
Cargo handling, terminal loading and passenger systems
Consulting
Cranes, Other
Cruise Vessel Equipment
Davits
Naval Equipment
Port Equipment
RoRo Equipment
Training products
Winches, electric
Winches, hydraulic
TTS products for RoRo, Cruise and Navy
TTS Services for RoRo, Cruise and Navy