Oceanographic handling systems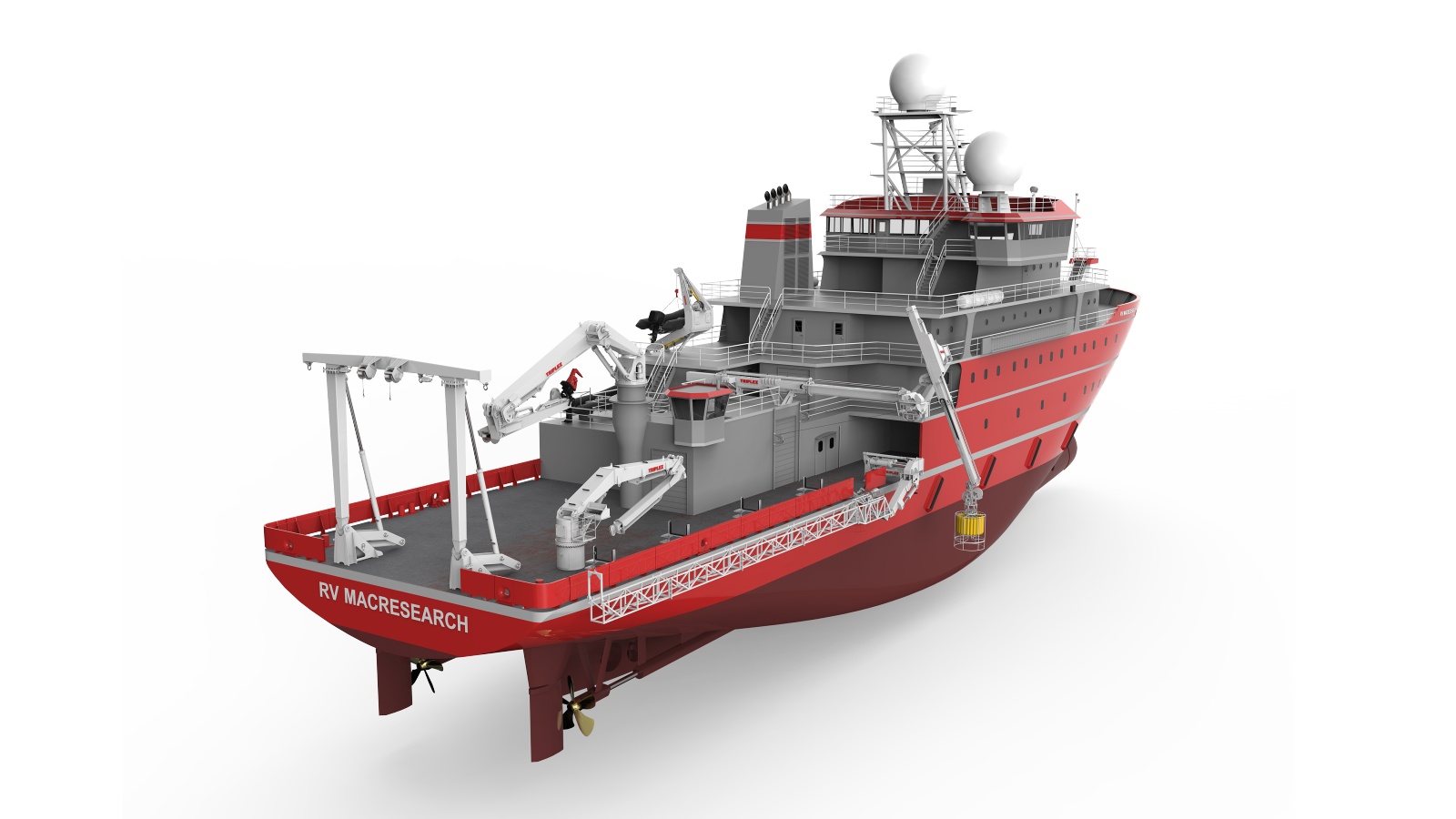 MacGregor offers a wide portfolio of scientific equipment handling systems that can be tailored to meet the needs of a specific project. Our designs are based on field-proven applications from a constantly growing fleet of oceanographic research vessels.
During the project phase of your vessel, we offer our experience and support to your designers to assist with the arrangement of our equipment and to adapt our designs for optimum vessel integration. This approach delivers extremely efficient operations, ensuring that you make the most of your new vessel's potential.
Telescopic overhead cranes, for installation in hangars, can be used to deploy or tow equipment over the side of the vessel. They can have stroke and lift, as well as safe working load (SWL) capacity adapted to meet your needs. The luffing function, together with an optional docking head, allows the crane to push equipment below the waterline to avoid swinging and possible damage. This is particularly effective in harsh, high sea-state conditions.
Another well-proven deployment system for conductivity, temperature and depth (CTD) rosettes is our telescopic CTD davit. Especially suitable for installation on an open deck, it allows efficient and safe deployment over the side and can also be designed for basic towing purposes.
A-frames for installation at the side or stern with a SWL of up to 30-tonnes are available with tilting angles up to 170°, making the insertion of cables into the sheaves or maintenance an easy and safe task. We offer fixed, hinged and telescopic A-frames with tugger winches directly mounted onto the frame if desired.
Corer handling systems to deploy all types of corer pipe assemblies are available for typical installation on the side of the vessel, but we also offer our newest arrangements that enable an operator to deploy and recover the corer over the stern. We can provide davit-based handling arrangements, but also recommend the evaluation of a solution that comprises a cradle together with a deck crane, as its operation is proving to be very effective.
For various deployment and towing purposes, we can supply straight telescopic booms or slewable towing booms.
All movements are hydraulically-driven, using proven cylinder designs with high-grade stainless steel piston rods to ensure endurance and a long service life. Depending on your preferences, we can deliver a hydraulic power unit to solely drive our handling system or with sufficient capacity to drive other hydraulic winch systems. If desired, we can also connect our system to your vessel's central hydraulic unit. All steel structures are zinc-coated for optimum corrosion protection.
Related shiptypes