Offshore Lattice Boom Cranes - Leg Encircling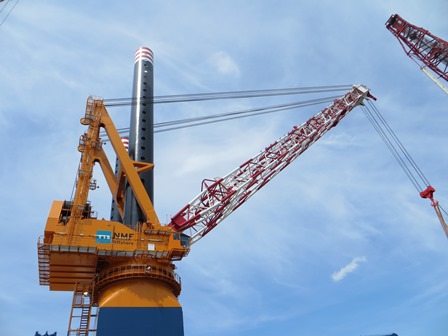 | | |
| --- | --- |
| Capacity: | SWL 200t–2500t |
| Jib lenght: | Up to 110m |
| Operation: | Lift boats, jack-ups for oil and gas, and wind energy |
Characteristics:
TTS NMF delivers a wide range of leg-encircling cranes (LEC), which can be used for heavy lifting tasks during installation, construction, commissioning and decommissioning operations. Like all TTS NMF cranes, this type of offshore crane has an unlimited slewing range of 360˚ and is outfitted with a roller slew bearing.
The jack-up legs, which are set in a columnar or triangular lattice structure, can be extended up to 14m. The LEC has an electro-hydraulic (closed-loop) driving system.
All equipment and machinery are located inside the machine house to protect them against the marine environment. The offshore crane is equipped with at least two power packs. In case of failure of one power pack the crane is still operational at reduced speeds.
Redundancy can be provided by installing two independent power supplies or an emergency supply inside the crane. The LEC can also be optionally equipped with an active and passive heave compensation system.
TTS NMF offshore crane designs are characterised by their ability to increase efficiency and operational capability for the operator.
Additional features:
Personal transport (auxiliary-hook)
Anti-collision system
CCTV camera system
Reverse power system
Remote maintenance system
MOPS/AOPS
Constant tension
Active heave compensation system