Sustained demand for sustainable PCTC equipment
30 Nov 2022
Reading time

calculated text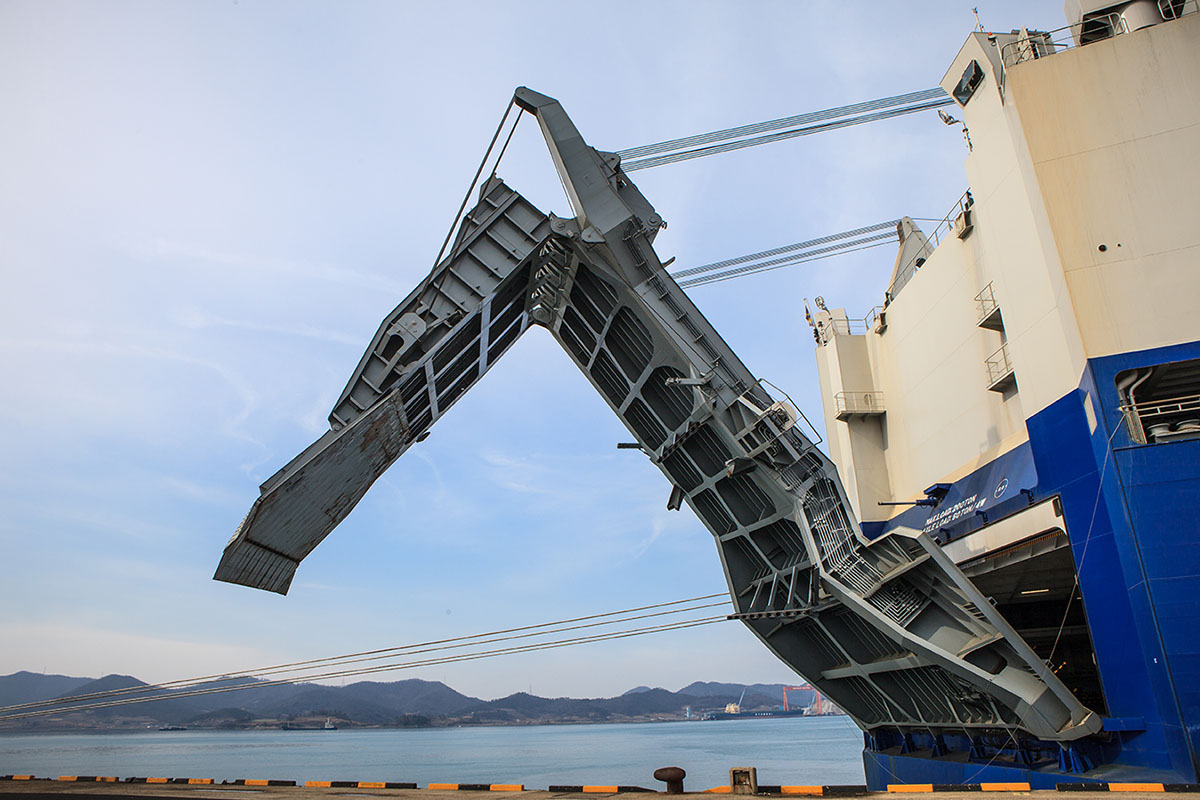 Efforts by car producers to sort out supply chain challenges, and rising demand for electric vehicles, are driving exceptional orders for Pure Car and Truck Carriers (PCTCs). Owners expect every last drop of efficiency from their sustainable cargo access solutions.
With a VesselsValue blog post logging earnings for the specialised ship type at $150,000 a day in August 2022 – 174% more than in January – the finished car logistics sector is "short of PCTC supply following years of underinvestment". Demand for ship space has been going "into overdrive", the analyst says. In September, shipping news source Lloyd's List reported the current PCTC orderbook as standing at an extraordinary 87 units.
Understandably, Björn Rosén, VP, Cargo Access Solutions, Merchant Solutions Division, MacGregor, describes market conditions as "highly positive". A core market for MacGregor for over 40 years, around two thirds of existing PCTCs feature MacGregor cargo access equipment.
"With demand going through a major upswing, MacGregor is tasked with upholding its reputation as a partner which ensures shipbuilders meet delivery commitments and provides owners with safe, reliable and high performance cargo access equipment backed by global service," says Rosén. "At the same time, however, this is a market which is prioritising sustainability in the ships it builds."
Maritime regulators are now pressing hard for ships to cut 40% off their CO2 emissions by 2030, with every existing ship's efficiency and carbon intensity to be measured from 2023 – under the Energy Efficiency Existing Ship Index (EEXI) and Carbon Intensity Indicator (CII) schemes.
Cars drive sustainability
If these provisions frame expectations for shipping as a whole, those serving the specialised car and truck transport sector must go further. Alongside pledges to switch to all-electric cars by a number of automakers, Ford Motor Company and Volvo Group are prominent members of the First Movers Coalition, for example. The World Economic Forum grouping "aims to use purchasing power to create early markets for innovative clean technologies" across hard to abate sectors.
"One reason for MacGregor's continuing strength as a supplier of ramps, liftable decks and other RoRo access solutions for the PCTC segment has been its market-leading focus on electrically-driven equipment," Rosén says. "As well as excluding the risk of hydraulic oil spillages, electric drives have proven their ability to save energy. Electrically-driven equipment has been in high demand in recent PCTC orders."
Another strength is the company's early involvement in the ship design, which has proved a distinct advantage in ensuring that MacGregor's proven solutions and new innovations optimise new projects, he says.
"We have long and extensive technical experience from the design phase to delivery and throughout the vessel's lifecycle. MacGregor doesn't come with a fixed arrangement for its PCTC customers. We're invited in the early stages as the cargo access partner, to offer guidance on minimising the risks of cargo damage, cargo hold arrangements, cargo flow simulations, ramp configurations and weight optimization. All of these are vital for ship efficiency."
The role also provides early opportunities to propose innovations, such as the new MacGregor position indicator which shows whether the quarter ramp can land at a busy quay before the ship moors, says Rosén. Following its early commitment to electric lifting equipment, the company can also offer unrivalled and data-powered recommendations based on performance, power consumption and cost optimisation.
In 2022, one early engagement saw MacGregor secure orders covering eight new 'zero-carbon ready' Höegh Autoliners' PCTCs, due delivery from China Merchant Heavy Industry in 2024-2025. Designed by Deltamarin, these 9,100-car capacity ships are trailed as "the world's largest and most sustainable car carriers," and will run on MGO/LNG while also attracting ammonia- and methanol-ready notation. MacGregor is providing design, supply and installation support for a large stern quarter ramp and door, side ramp and door, and liftable car decks.
"The vessels' strengthened deck and internal ramps will enable carriage of electric vehicles throughout, while the tailor-made load monitoring system will allow ramp supports to adjust as load stresses change. This is a further example of innovation that advances sustainability and efficiency - the result will be lower weight, reduced fuel bills and emission savings," says Rosén.
This and further articles in our latest edition of MacGregor News include: