Digital and Business Transformation network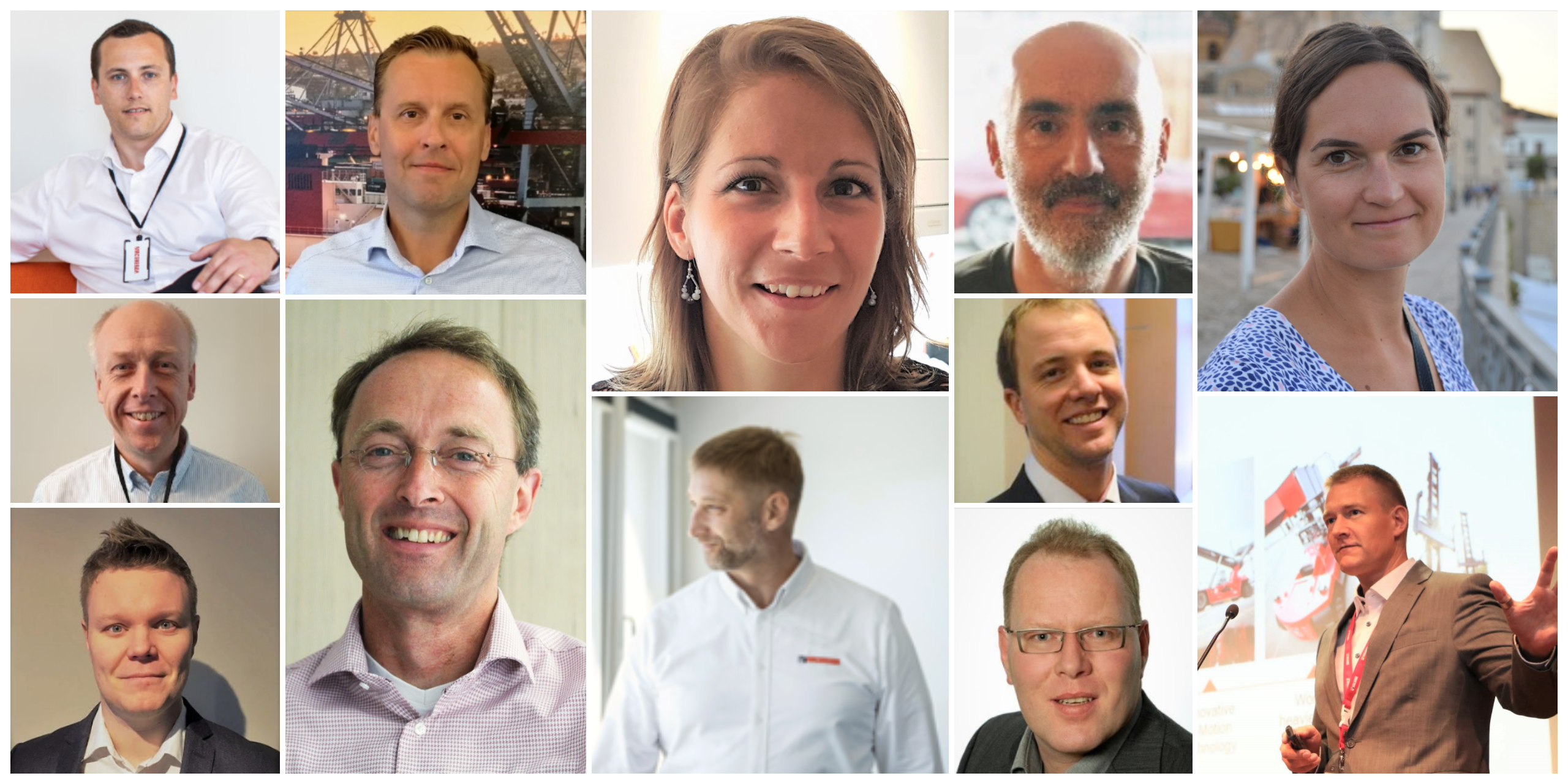 The Digital and Business Transformation network is driving and accelerating our Growth in Intelligent Services, thus fully focused on one of our must-win battles. The team works in close cooperation with the Divisional digitalisation leaders as well as cross-functionally with Marketing, Business Development, Strategy and Communications, HR and Cargotec functions.
Read about the core functions and divisional team members here - their roles, experience and what inspires them in their work. The stories have been written by the network members themselves.
Dennis Mol
"It is a privilege to have inherited such a knowledgeable and experienced team that is capable of covering all angles and content we need to make the digital business transformation happen within MacGregor. I have worked in the maritime industry for more than 20 years and I am inspired and motivated by the changes we may expect in the coming five years due to the digital technology that exists, or is becoming available. These new technologies will form and shape the industry in a different way, and being a part of that transformation let's my heart tick. So, the challenge is to create the right impact within MacGregor with our team and motivate our customers and colleagues around the globe to join us in that journey."
Daniel Lundberg
"It is my privilege to have the opportunity to drive New Service Business Models in these exciting and challenging transformation times. It is my responsibility, together with our key divisional and functional stakeholders, to identify and create new business model concepts that we can deploy to add customer value and generate new revenue streams for MacGregor. With 12 years in the aviation industry, I look forward to contributing and leveraging my experience from other service focused industries. I am truly excited about our journey together in creating service solutions that support our customers!"
Jörg Peschke
"I am architecting and coordinating the end-to-end IoT (Internet of Things) solutions that solve our customers' business problems. My main focus is to ensure that our communication platforms are future-proof: secure, interoperable, modifiable and scalable.I enjoy advising the Digital and Business Transformation team on technical topics, covering the fields of connectivity, condition monitoring, process automation, and data analysis. The identification of technology trends that will yield long-term competitive benefits for MacGregor is what really inspires me."
Håkon Jørgensen
"My role in the Digital and Business Transformation team is to identify, drive, coordinate and aid digitalisation initiatives that create value for customers, internal business units and shareholders. With multidisciplinary understanding and work experience from different industries, I'm looking for the larger picture, yet always trying to understand the building blocks needed to support it."
Knut Martin Ranestad
"I am responsible for finance and project support, assisting and guiding the Digital and Business Transformation team in their monthly budget and progress reporting. Having spent the last 30 years focusing on the financials of hardware, breaking into the future business of digital revenue is both challenging and rewarding and I am looking forward to making an impact in building up the structure of financial controlling and reporting around MacGregor's digital business."
Corey Heasman
"In my role supporting the Digital and Business Transformation network my focus is on the people. Whether it be supporting to ensure that we have a well functioning, engaged and high performing team - recruiting the right people with the right fit for our customers, for MacGregor and for our function - or ensuring awareness of the people element of the digitalisation strategy is in focus, I do my best to work closely together with the core team and support driving the priorities in the right direction. Growing in Intelligent Services from my perspective is also about growing in the way we think, act, behave and collaborate. We have the opportunity to lead the transformation as opposed to following it and we can also differentiate ourselves from our competitors with our leadership, teams and innovations from our people. There are definitely more challenges to come, but at the same time many exciting opportunities to collaborate and create a future we can all be proud of!"
Brigitte Guttenberger
"I am in charge of the the Must-win Battle Program Management Office of MacGregor, ensuring KPIs and roadmaps are in place and that progress is regularly followed and reported to ensure successful implementation of our strategic targets. One of our Must-win Battles is "Grow in intelligent services" and is fully owned by the Digitalisation and Business Transformation team. I support in providing a harmonised approach to project follow-up, creating transparency and ability to benchmark and providing a wider perspective from the overall strategy implementation. What inspires me is to be a part of this professional team that is adding new solutions to our portfolio. Every day I learn something new - but can also leverage my experience from business consulting and project management."
Tommi Keskilohko
"I am heading the Customer Solutions team within the Cargo Handling Division at MacGregor. In our team we are used to collaborating closely with shipowners and trying to assist them in solving their problems by creating new services and business concepts. My role in the Digitalisation and Business Transformation network is to lead the team working on the "Breakbulk Optimiser" initiative, which is one of the four key digitalisation initiatives within MacGregor. Thanks to our legacy business we already have good access to most of the customers and a good understanding of operations. Now we can also bring the extra ingredients of digitalisation and algorithms into the equation."
Phillip Tipping
"My position within the RoRo business line gives me and my team the unique chance to connect directly with our customers helping to provide them with new services and solutions that improve their business. It allows us the chance to learn how ship owners operate, which in turn teaches us what really makes a difference to them. This is what gives me the energy to lead our Customer Innovation Department."
Eivind Stensland
"Being relevant and creating value for our customers and our business lines, through collaborative research and development projects, is what we aim for in the R&D department in the Advanced Offshore Division. We believe in cooperation with partners, leveraging each others' strengths, accelerating developments and introducing new solutions to the market. By mastering technologies such as sensor technologies, drives solutions, robot controls and modelling and simulation technologies, I believe that we are able to offer innovative solutions and services to support our customers in having more sustainable, safe and efficient operations."
Floor Meijs
"I play a global coordinative role in bringing our digital solutions concepts to a tangible, desirable and commercial pack. These commercial packs create actual and proven customer value, coming from customer involvement and real life validation. We challenge our concepts, to make sure we bring to the table what customers really need. I strongly believe in Design Thinking methods and I love to investigate new commercial models to make sure that our new technology will perfectly fit the future challenges of our customers. Besides, I am heading the C-How simulation team, where we simulate actual operational environments, working with our own to verify new design concepts in a broad sense (strengths, forces, movement, dimensions etc.) as a valuable way of risk mitigation and "operational window optimisation" for our customers in an early stage of the project or operations."
Mikko Lehtinen
"I lead the Technical department of Gloval Lifecycle Support (GLS), the service organisation of MacGregor. Becoming a service driven organisation is one of the key goals of MacGregor and digitalisation is an integral part of getting us there. It holds promise on two areas - how to bring value to our customers and how to serve our customers better. My role in the Digital and Business Transformation network is to bring that service perspective into the development efforts led by the team. One such development is the OnWatch Scout program which combines the two areas. On one hand it will offer faster maintenance and troubleshooting. On the other hand, it will also support spare parts business by offering predictive maintenance."