Retrofits, overhauls, optional extras and replacement services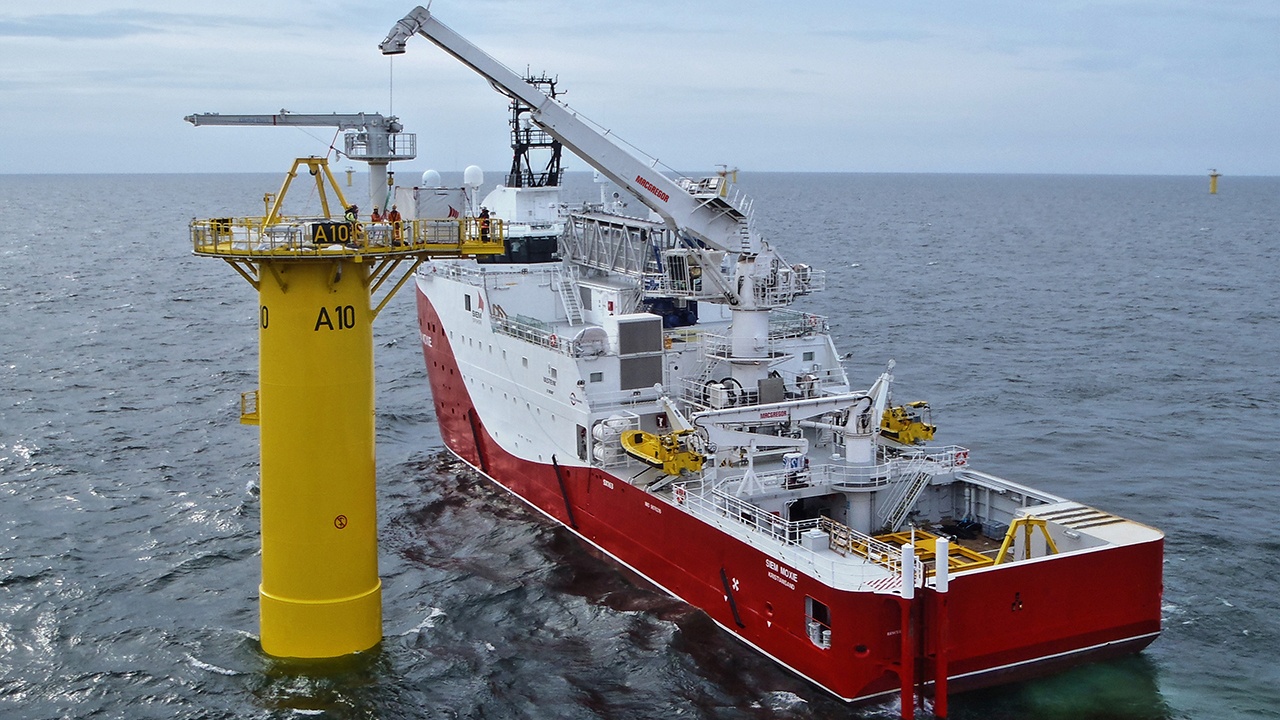 MacGregor recognises that operators need to keep advancing their capabilities, but economically, this might not be possible. This is why we have developed a number of options that deliver cost-effective commercial advantages.
Fibre-rope retrofit option for MacGregor subsea cranes
MacGregor fibre-rope retrofits are available for all MacGregor subsea cranes. The modular upgrade replaces the crane's original steel wire rope with high-performance synthetic fibre rope, using the same technology as MacGregor's advanced fibre-rope crane, the FibreTrac 1500.
By employing this fibre-rope technology, a crane is able to use its full lifting capacity at maximum depths, so a smaller crane and vessel can be used for more assignments. Effectively, a 150-tonne fibre-rope crane will be able to replace a 250-tonne wire-rope crane when lifting loads at depths of 3,000m and it can continue to lift loads at even greater depths, allowing these vessels to bid on a wider range of contracts.
Watch the short animation that shows the benefits of MacGregor's fibre-rope retrofit solution employed on a 100-tonne active heave-compensated (AHC) crane.
MacGregor retrofit fibre rope crane
MacGregor 3D Motion Compensator
The 3D Motion Compensator (3DMC) is a flexible retrofit device, which is designed to enhance the load-handling precision of an offshore crane even in challenging sea states. The 3DMC can be fitted to the knuckle jib of a broad spectrum of new or existing MacGregor subsea/offshore cranes. It compensates for the roll, pitch and heave motions of the vessel to minimise any movement of the load in relation to a fixed point in space.
The 3DMC has been designed for easy installation and makes use of the existing hydraulic power unit and control system of the crane. The 3DMC/crane interface is designed so that the unit can be swiftly mobilised to a crane with the relevant fittings. This allows flexibility within a fleet of vessels that can share one or several 3DMCs between them.
Watch the short animation about the cost-effective, flexible retrofit device, MacGregor 3D Motion Compensator (3DMC).
MacGregor 3D motion compensator
Ship-to-Ship Active Heave Compensation /Auto Tension (AHC/AT)
A new function called Ship-to-Ship Compensation (STS AHC/AT) can be considered an extension of existing AHC/AT. The crane compensates for the relative movement between the two floating vessels; hence keeping the distance between the hook and the other vessel constant. To measure the relative movement, two Motion Reference Units (MRUs) are used. AT keeps the tension constant by using a combination of the MRU signals and the load cell in the crane.
Replacements and exchanges
Are you looking for cost-savings, but still need factory-certified equipment with OEM warranty coverage? Or maybe your equipment needs an overhaul, reconditioning, or repair within a short lead time? Do you need to replace an existing air compressor, for example, for your installation? Then we can offer you the following compressors:
Available but subject to prior sales (replacement air compressors)
Brand-new equipment
Factory-reconditioned equipment
Air-cooled 5m3/h to 410m3/h systems
Water-cooled 20m3/h to 440m3/h systems
Screw-type 30m3/h to 660m3/h systems
Class certificate supplied
OEM warranty
Read more from our brochures:
Pusnes coupler valve protection cover
Pusnes brake test kit
Ship-to-ship compensation system
Pump card - hardwired signals
Pusnes rope and wire spooling gear
Pusnes bow loading tension display
Porsgrunn frequency controlled steering gear
Porsgrunn steering gear real time logging
Steering gear pump exchange/overhaul programme
Retrofits, overhauls, optional extras and replacement services for the following equipment: