MSC Mediterranean Shipping Company and MacGregor
17 Apr 2019
Reading time

calculated text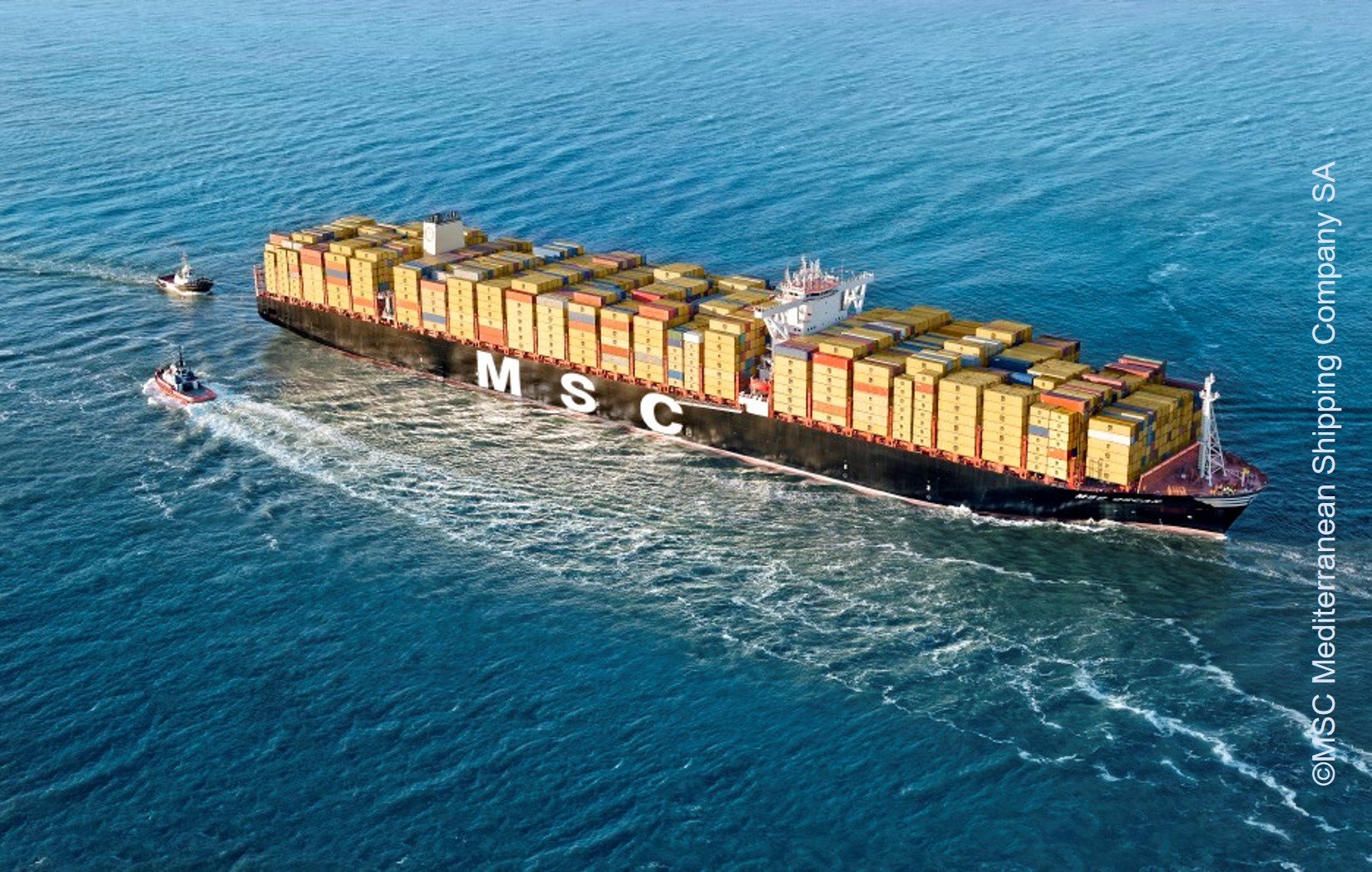 Working together to improve performance and reduce emissions
With ever increasing pressure to reduce energy consumption and overall carbon footprint, Geneva-based MSC Mediterranean Shipping Company is taking a proactive approach. As the world's second biggest shipping and logistics company, MSC is committed to promoting the sustainable use of the sea and marine resources with the help of new technologies and innovations.
MSC ordered eleven 23 000 TEU vessels in 2018 with the first expected to be delivered in 2019. They will be the biggest of their kind and replace a number of 13,000 and 14,000 TEU vessels. The investment is in line with MSC's goal to utilise the latest generation of green technologies to minimise the environmental impact of its business activities on lands, oceans and populations. Read more about MSC´s new vessels from this DNV GL article.
´As our fleet grows and technology develops, we want to make sure that our strategic investments are both environmentally and economically feasible´ Giuseppe Gargiulo Head of Department, New Building, Dry Dock and Conversions, MSC Mediterranean Shipping Company.
MSC and MacGregor have been cooperating for many years. MacGregor has been playing an important role in developing and introducing new innovations that improve cargo-carrying efficiency and maximise profitability. MacGregor has continuously helped MSC to translate their operational needs into new cargo system configurations and methods by supporting MSC in their daily actions and responding to their development needs.
´Through our close cooperation with MacGregor we are able to develop new solutions that are of mutual benefit and help us to grow together. The right set of technical skills and technology, combined with open communication and mutual trust, is essential in order to achieve the common goals´ Mr Gargiulo confirms.
MSC operates one of the youngest fleets in the world and is making massive financial investments to have modern, efficient and environmentally-friendly vessels. This applies not only to the newbuilds on order, but also to the 250+ ships which MSC has retrofitted in recent years with the latest green technologies. For example, the optimization of bulbous bows and propellers to help save energy MSC has been preparing for many years to keep pace with the changing regulatory environment around Sulphur content in marine fuel. In addition to using a very large quantity of low-Sulphur fuels, MSC had the foresight to invest in UN IMO-approved exhaust gas cleaning systems (scrubbers) in order to continue using traditional marine fuels in compliance with the new regulatory regime. Cargo efficiency has not been overlooked either.
MSC and MacGregor have carried out many cargo system upgrades under MacGregor's Cargo Boost concept. The upgrades are tailor made to match the needs of individual ship series taking into account trade and operational profile as well as investment efficiency. Cargo Boost covers everything from a relatively easy cargo securing manual update with the latest rules all the way to more comprehensive upgrades like changing the container stowage arrangement to mixed stowage and renewing the lashing brides and changing the lashing system.
´With MacGregor's Cargo Boost we have managed to increase the average cargo carrying capacity as well as flexibility to load different cargoes in an efficient manner. This means we are driving down the energy required to transport each individual container and reducing emissions per transported TEU or ton of cargo´ says Mr Gargiulo.
MSC is a global, but still family-owned, company with its roots deep in Sorrento, Italy. Strong family values and heritage give MSC a distinct flavor in a modern business environment. MSC's goal to preserve the environment by means of continuous development of overall efficiency is fully in line with MacGregor's goal to improve cargo handling efficiency in a sustainable manner.