Hatch cover control systems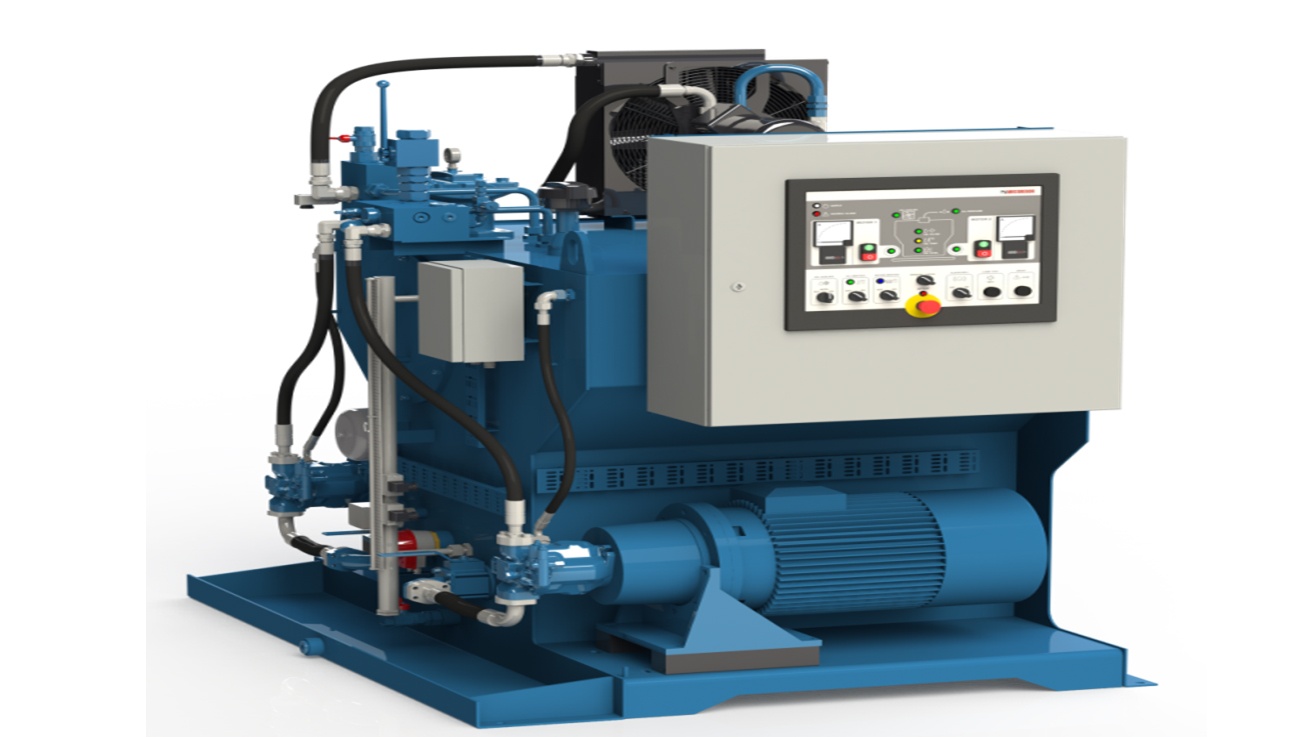 Harsh operating conditions on deck dictate that MacGregor only uses high-quality, specially-designed, reliable hydraulic and electronic control system components from select suppliers.
Hatch cover controls for hydraulic systems
Motors
Slow speed hydraulic motors
This type of motor is used for rack-and-pinion type side-rolling hatch covers and for large single panel chain-driven side-rolling hatch covers. The design responds to the challenges of marine environments by having smooth surfaces with no grooves or recesses. This allows water to drain easily off the motor and prevents rusting.
MacGregor uses slow speed hydraulic motors with an integrated load-holding valve that provides operational safety by holding the load in position when hydraulic system is not in operation. During operation the valve improves motion control by adapting continuously to any alternation of the load condition.
Medium speed hydraulic motors
Medium speed motors with planetary gears are used for chain-driven side-rolling panels. They are a cost-efficient solution without compromising the ability to withstand marine conditions.
Cylinders
Hydraulic components that are particularly prone to weathering include cylinder piston rods that can corrode and bearings that may seize. MacGregor has tackled piston rod corrosion through the use of stainless steel rods (single-acting cylinders) or stainless steel sleeves over the rods (for double-acting cylinders where part of the piston rod remains exposed in a retracted position). For large cylinders a top seal and wiper ring are used.
For additional protection of the piston rod surface, the space between the top seal and wiper ring is fitted with grease nipples. The cylinder cover is bolted to the cylinder body, so that it can be easily dismantled for maintenance.
The bronze, spherical bearings on both ends of a MacGregor cylinder dramatically extend the service life of the bearings and pins in comparison with any other design.
Valve groups
Valve groups control the various hatch cover operations. Good control of the operating speed is essential for the safe movement of high-stowing folding hatch covers. This is particularly important when the hatch cover is near to the open position, where the constantly changing geometry dictates that the speed naturally increases. Effective speed control is also important for side-rolling hatch covers. MacGregor has paid particular attention to this issue and has developed special modularised valve groups for each hatch cover type.
The manually-operated valve groups are modular, with cartridge-type pressure and flow control valves. This reduces maintenance costs and ensures that parts can be replaced swiftly as they are available in stock. The 'block design' of the control valve has fewer separate components and connections compared with traditional valve configurations and therefore decreases the probability of leaks and corrosion damage. The valves have a superior flow control feature, which has been designed so that the stroke is long and the control lever makes a large angle at the opening/closing stage, so that a large movement of the lever delivers a small, smooth control change. This makes it easy to control the speed of the motor and therefore the cover(s) at critical stages. The valve group is fitted inside a protection box, with connections for pressure gauges to for system set up.
Pump units
Hydraulic pump units are specially-designed to function in the marine environment. They deliver oil heating and cooling functions and have optimised tank sizes. The pump unit's dimensions are often a decisive factor when designing deck storage arrangements. MacGregor understands the need to minimise the use of space and has designed a compact range of pump units.
Complex hydraulic systems require proper flushing and pressure testing
To obtain a trouble-free hydraulic system, special attention needs to be paid to system flushing and pressure testing. Careful flushing of the system prior to start-up will significantly reduce malfunctions and prolong its service life. MacGregor can flush systems for an operator. This relieves time pressures during the commissioning phase and ensures that the most reliable equipment and the best working practices are employed.
Flushing requires specialist equipment. MacGregor has this equipment so the shipyard can save on this investment by using MacGregor flushing services. Samples must be taken as the fluid is passed through the pipe work. This is a constant dynamic process during which it is possible to see the contamination results first rise and then fall as the debris is filtered out. Taking a single sample from each line does not accurately represent contamination levels of the total oil volume as it assumes that any contamination is evenly distributed in the pipe work, which is almost never the case. Using a separate flushing fluid, cleaning the pipe work, then using drum oil to fill the system is a procedure likely to cause contamination because drum oil is not clean enough and must be filled through the filter.
Remote and wireless control of hydraulic control systems
The remote control of hydraulic power units allows the operator to start/stop the hydraulic power pump remotely. This feature reduces idling time and uses energy more efficiently. Subsequently, the hydraulic system is pressurised only when needed, which also reduces the wear of the mechanic components.
The unit has an emergency stop button, a hydraulic pump unit start/stop and a running indication.
Better visibility enhances safety and efficiency
The wireless remote control of the hydraulic power unit delivers the same benefits as the remote control system, but provides even more freedom for the operator.
The system is easier to operate than traditional control systems. All functions can be controlled by one controller.
The wireless system has the following features:
Hatch cover selection: all hatch covers can be operated with same controller
Proportional joystick 1-4 pieces : individual joysticks for each operation (end hinge, bell crank, wheel lifter)
Emergency stop button: immediately stops the hydraulic pump unit
Hydraulic pump start/stop buttons and running indication
Cable connection: back-up system for radio connection
Hatch cover controls for electric-drive systems
Traditionally, large bulk carrier side-rolling hatch covers use two types of drive for opening/closing operations: chain or rack-and-pinion drive. For both options there are two ways of lifting the panels up into the position at which they can be opened or closed: pot lifts (which can also be described as hydraulic jacks, or wheel lifters), or 'Roll-up-Roll' lifters, which enable automatic cleating to be adopted.
MacGregor also offers an innovative, economical, energy-efficient alternative, MacRack. MacRack is an electric-drive system that unites these lift and drive operations and so makes separate hatch cover lifters obsolete. This reduces maintenance work for the shipowner and the shipyard's installation work is also simpler because fewer components need to be installed on the coaming.
Another significant feature is that the actuators are installed on the hatch sides only, which ensures that the drive unit is well protected from cargo spills during loading and discharging.
Panels are kept in the closed position by an automatic lock (with a manual release). For intermediate stops the panels are held by the built-in brake on the motors. During the opening/closing procedure, auto-cleats are activated.
The reliability of these systems has been a key focus, with redundancy incorporated into the control system design. For instance, if one of the deck PLCs is broken, the panel can be driven directly from the variable frequency drive (VFD) operating panel. It is also possible to manually cross-connect motors between VFDs. Also, if a problem in position control arises, the system goes into 'safety mode', which allows a panel to be driven, but only at low speed. If electrical power cannot be used, panels can be operated with the same emergency equipment usually used in all MacGregor hatch cover systems.
Electric drives offer many advantages to shipowners and shipbuilders compared with hydraulic versions. The main advantages are that hydraulic oil leakages are eliminated, there is no need to fit hydraulic pipework on board, electric drives are easy to maintain, and they offer energy savings. It is also relatively easy to condition-monitor electric drives through the use of all electric components.
MacRack incorporates a number of mechanical as well as electrical innovations:
drive and lift systems are combined
automatic cleating (as in Roll-up-Roll)
initial lifting is practically straight up enabling the use of a standard seal all around the hatch cover panel
the motor and its mounting are disconnected from the panel when the hatch covers are closed at sea, allowing free relative movements between ship's hull and hatch covers
the modular configuration means that installation and repairs can be done independently and replacements are easy
automatic locking when closed, but with a manual release
a standard interface speeding up the ship design process
Read more from our brochure: