MacGregor automated mooring system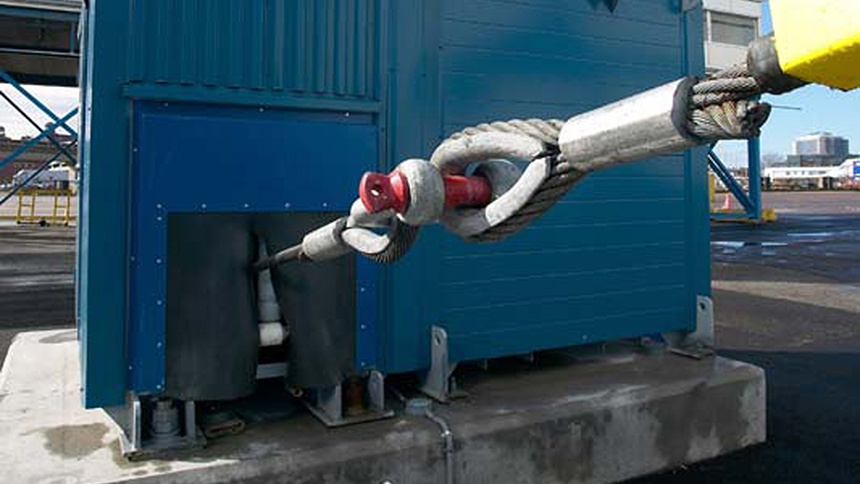 Secure mooring is essential for the safety of passengers, crew, cargo and ships. At the same time operators strive to reduce time in ports and lower labour costs.
MacGregor's automated mooring solutions help minimise time spent in port, while keeping the vessel safely moored even in difficult weather and tidal conditions.
Our systems offer significant benefits in terms of enhancing safety at the interface between the ship, shore ramps and the access walkways. Traditional mooring lines can be discarded and the on-shore mooring work reduced. MacGregor automated mooring devices are remotely operated from the ship, independent of tidal variations and provide an optimised mooring force at all times.
The mooring power of MacGregor Moorex ashore units can be compared to harbour tugs continuously pushing the vessel against the quay fenders. A strong Moorex bollard is installed flush with the ship's side, always keeping the Moorex mooring rope angles optimal, rope forces remain high, and the ship's position is accurately maintained.
Moorex on-shore units are compact and save space on board. The equipment is placed ashore, at an optimal rope angle and longitudinal position.
Semi-automated Moorex mooring enables fast, easy and reliable mooring operations even in short harbour stops. It reduces the need for crews to supervise possible ship movements. With Moorex, the same device can also serve many vessels, especially in line traffic.
Moorex is a flexible option. If a vessel changes its route, the systems immediately become available as soon as shore bollards are installed at the new port of call.
Read more from our brochures:
Mooring and auto-mooring solutions
RoRo port and terminal solutions
Mooring and auto-mooring solutions brochure
Services for automated onshore mooring system (Moorex)
Related shiptypes
Other port and terminal equipment