Offshore DK Cranes - Closed Housing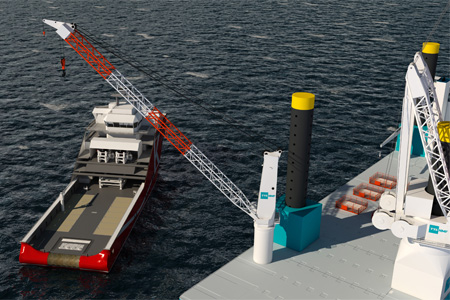 | | |
| --- | --- |
| Capacity: | SWL 50t–800t |
| Jib length: | Up to 100m |
| Operation: | Lift boats, jack-ups for oil and gas, and wind energy |
Characteristics:
Based on the unique track record of DK cranes, TTS developed the next generation of closed housing offshore cranes type DKO . The machinery and equipment is mounted inside the crane housing and protected against the maritime atmosphere.
The slim design safes weight and reduces necessary slewing space to a minimum. In addition various load steps ensure high speeds for hoisting, luffing and slewing for every kind of operation.
Like all TTS cranes, this type of offshore crane has an unlimited slewing range of 360˚ and is outfitted with a roller slew bearing.
Focusing on safety, the DKO is equipped with a double pump unit system which ensures the full load operation even in case of failure of one pump unit.
The DKO can also be optionally equipped with a TTS active and passive heave compensation system.
Additional features:
Personal transport (auxiliary-hook)
Anti-collision system
CCTV camera system
Reverse power system
Remote maintenance system
MOPS/AOPS
Constant tension
Active heave compensation system