Ship emissions message needs to carry the full load
26 Aug 2021
Reading time

calculated text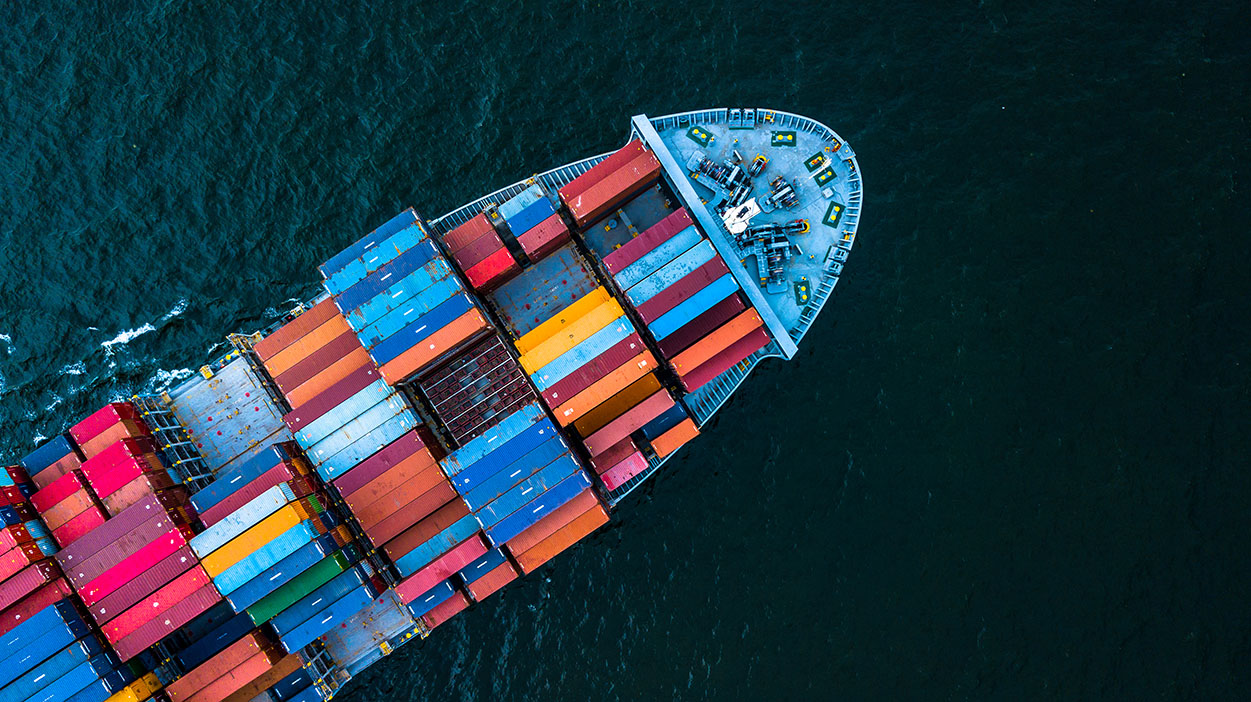 Ambitions to lower the environmental impact of shipping make more sense if all of the ways ships can reduce greenhouse gas emissions are fully recognised, according to cargo and load handling solution provider MacGregor.
A global force in cargo flow, Cargotec is led by Chairman Ilkka Herlin, whose advocacy for businesses that are sustainable as well as profitable is widely acknowledged. A founder of the Baltic Sea Action Group, Herlin's personal interests include biomethanisation – a pioneering way of combining hydrogen and captured CO2 to produce synthetic methane.
For Cargotec, becoming the global leader in sustainable cargo flow is therefore a core objective. At all levels, the goal is to squeeze inefficiencies out of the logistics chain wherever they are encountered through its cargo handling and shipboard technologies.
Päivi Koivisto, Cargotec's Vice President - Sustainability, was appointed in 2019 to drive group commitments to the United Nations Global Compact Business Ambition for science-based measures to limit global temperature rise to 1.5°C above pre-industrial levels. Cargotec aims to reduce CO2 emissions in its value chain by 1 million tons by 2024.
"It's ambitious and on a different scale to what we see elsewhere," says Koivisto. "When a lot of companies make carbon neutrality statements, they are focusing on their own operations," she says. "Our target combines raw materials, our own operations and customer use of our products. A target for change of this kind demands close cooperation all along the value chain."
Handling the sustainability issue
All Cargotec sustainability initiatives must deliver measurable results, Koivisto says, but contributions by individual business units demand different emphases. While all contribute to an 'eco-portfolio' of products, subsidiaries Kalmar and Hiab are manufacturers whose production 'footprints' merit specific attention.
By contrast, MacGregor subcontracts its manufacturing and focuses on the design, development and through-life support of its cargo and load handling systems. Here, sustainability gains are available through 'handprint' focused initiatives where the 'green' choice must make the best business sense for customers.
"As 65% of manufacturing for MacGregor involves steel, we influence sustainability on the procurement side, but our focus is on developing sustainable solutions to create new value for shipbuilders, owners and operators," says Michel van Roozendaal, MacGregor President.
"Positive" contributions from greater cargo handling and operational efficiency should be considered as relevant to the IMO target to halve greenhouse gas emissions from ships by 2050, against a 2008 baseline, Van Roozendaal asserts.
"It is inevitable that regulators focus on the connection between engines and emissions, but MacGregor systems are actually the most closely connected to the reasons why a ship is sailing. More efficient cargo and load handling cuts unnecessary moves, with direct consequences for emissions."
Collaboration is needed to ensure that business and sustainability motives are served at the same time, the MacGregor President says. "Intelligent solutions that improve sustainability and offer clarity on payback are desirable from both sides."
Environment plus
Van Roozendaal picks out MacGregor's Cargo Boost upgrade service for containerships as a prime example of an innovative concept that demonstrably benefits earning potential and fuel efficiency, emissions and CO2 per TEU miles in a single solution.
Cargo Boost is a MacGregor PlusPartner solution that is 'green by design' and increases the carrying capacity of existing containerships. Focusing on gains available for specific routes, a Cargo Boost project involves MacGregor evaluating container stowage arrangements, structural checks and class approvals, and then collaboratively developing an upgrade and installation plan to boost capacity.
The scope of a Cargo Boost upgrade can range from documentation updates and/or minor mechanical upgrades to changing lashing gaps, refining mixed stowage or more significant reconfigurations. Services will also include cargo securing manual and loading computer updates, as well as crew and back-office training. Owners considering lengthening a vessel would also be candidates for the Cargo Boost service, says Van Roozendaal.
"Whether it's seen as an economy of scale, lower emissions per tonne, an emissions-free ride for extra containers or an opportunity to reduce the number of ships in a rotation, it's a gain for sustainability. To date, efficiency gains have been the primary benefits sought by shipowners, but more recently we're seeing owners driven by climate-related goals."
Measurable gains
MacGregor has already delivered Cargo Boost to some of the largest container shipping lines in the world. Magnus Sjöberg, Senior Vice President Merchant Solutions, says a simulation of the impact of Cargo Boost on a fully laden 13,000TEU container ship operating on a transpacific route calculated 10% savings in CO2 emissions (460 tonnes).
"It's worth comparing that to liquefied natural gas as a marine fuel - routinely mentioned as the bridging fuel to a more sustainable future," comments Sjöberg. "Actually, LNG only achieves a 20% reduction for GHGs. In ROI terms, the Cargo Boost numbers speak for themselves."
Sjöberg says that MacGregor proposals for greater sustainability in the supply chain are based on full transparency. MacGregor's Breakbulk Optimiser, for example, is an automated, cloud-based application whose ROI is based on using cargo booking and routing data to optimise cargo stowage and utilisation rates continuously, including for multiport calls. He says MacGregor simulations of a specific vessel type demonstrate the availability of annual CO2 emissions savings of 1,800 tonnes.
A greener business
Other vessel types are benefiting from the MacGregor strategy to develop solutions that meet the twin imperatives of sustainability and profitability, according to Sjöberg.
"We have worked with one of the world's leading car carriers on a suite of electrically-operated ramps, doors and covers, and an electric liftable car deck," he says. "The principal objective was to eradicate hydraulic oil spills, but electrical systems also enable automation and more predictable simulations. This was also the first time we supplied our new Load Monitoring System, which increases ramp safe working load by 50% without adding weight."
MacGregor is also deploying its extensive oil & gas experience to support the growth of the offshore wind and renewable energy industries, and recently secured its largest ever contract with the wind energy sector owner OHT.
MacGregor's contribution to the Alpha Lift foundation vessel, which will also be the largest ship of its type in the sector, will be a new motion-compensated pile gripper developed jointly with Kongsberg Maritime for integration with dynamic positioning and control.
Dennis Mol, Vice President Digitalisation & Business Transformation, says that the inclusion of advanced automation technology has resulted in a capability that eliminates unnecessary mooring, offering time and cost savings. "Simulations have been a key part of this project, and part of the product development with our customer," he says.
Wind of change offshore
If the modelling is complex, the potential gains for efficiency, sustainability and business are straightforward, Mol explains, and they apply to existing as well as new offshore vessels.
"The transformative role digital technologies are playing in enhancing efficiency in the installed base of equipment through monitoring, condition-based maintenance and remote support is immense, he says. "In the offshore segment the stakes are high, with a single vessel capable of losing an owner $40,000-50,000 in earnings for each idle day."
For MacGregor one positive outcome of the Covid-19 pandemic has been a greater willingness of customers to engage with "the digital conversation about sustainability and efficiency goals," says Mol.
"It's become a two way conversation, with some large companies that passed six months ago now asking us to go over it again with a greater emphasis on actionable insights. There is a tailwind behind the problem-solving potential of information that is readily available, covers global assets and is digitised to provide real 'fix me' advice onboard."
Digital difference
"Diagnostics, spare parts logistics and service visits – all of these steps speed up tremendously if you have the right information at your fingertips. Our customers estimate that this type of digital analysis can cut the time needed for evaluation alone by 50%."
Mol says MacGregor seeks to monetise this aspect of its strategy for more sustainable operations using insights taken from the insurance sector, where end-users share in the benefits of added value.
As part of the Rainmaking start-up programme, MacGregor brought its load handling expertise together with machine learning specialist Arundo Analytics to develop the condition-based monitoring and predictive maintenance service, OnWatch Scout. Gathering data from installed sensors, the solution offers onboard performance analysis via the MacGregor marine data engine and can upload information to the cloud at the most cost effective opportunity for deeper analysis ashore.
Mol is convinced that the technologies being developed to enable autonomous ships will play a full role in the progression of more sustainable shipping, as more accurate analytics and greater electrification overcome human errors. MacGregor is a member of the ONE SEA autonomous ship consortium and has direct involvement in a number of collaborative programmes, including Germany's 'ROBOTUG' project.
"Our experience is that the most effective drivers for digital change so far are the people working on board ships," he says. "Unless crews realise safety, efficiency and sustainability benefits, implementing digital change can be dead in the water. We can all see machine learning experts taking algorithms to the next level, but the digital priority for sustainability and efficiency today is getting platforms up and running."