Side-rolling hatch covers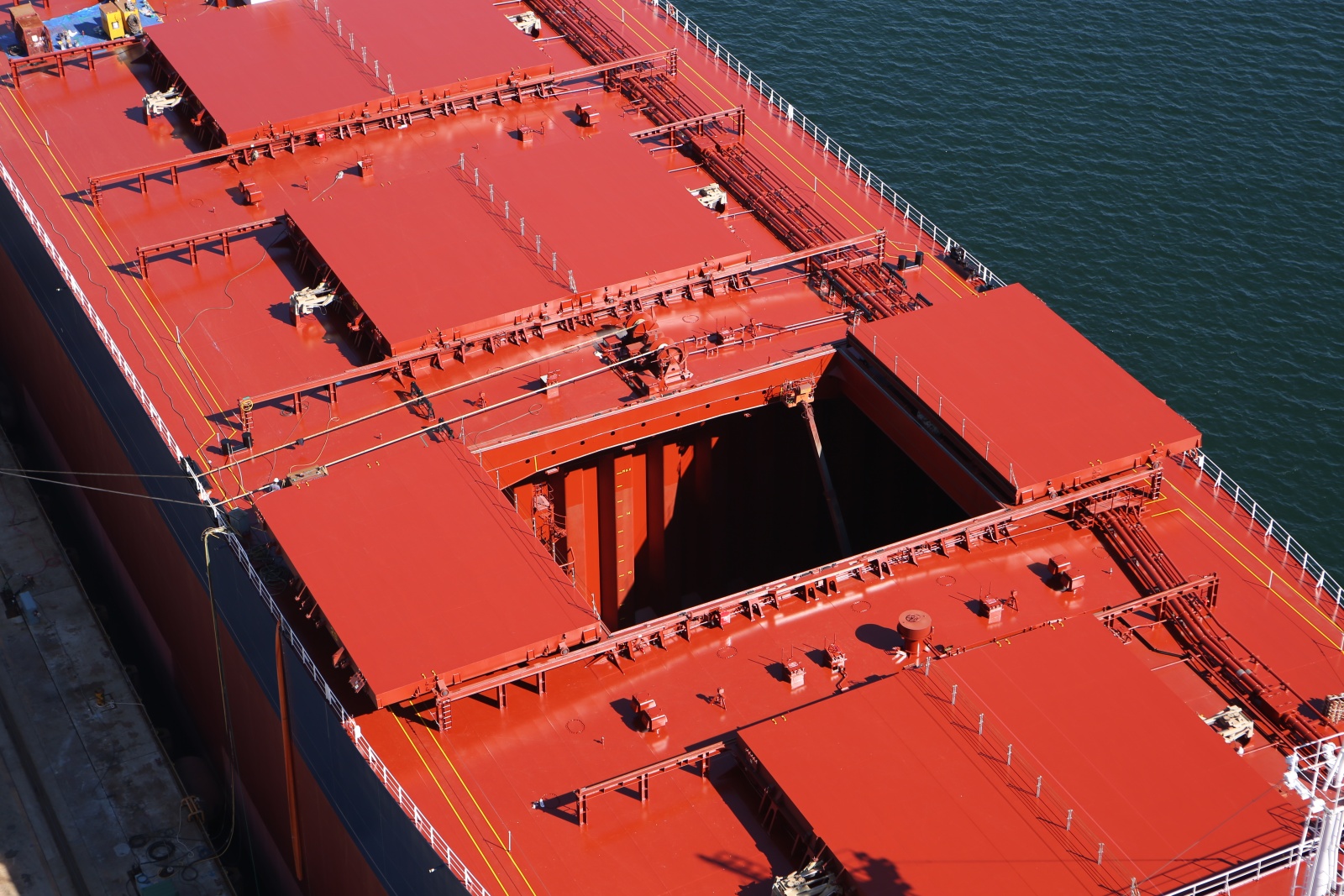 Like every hatch cover, MacGregor side-rolling covers are designed to protect the vessel and cargo from the ingress of water into the cargo hold. They ensure the safety of crew and vessel and are well-known for their quality, efficiency and reliability.
MacGregor side-rolling hatch covers are popular for use on the weather decks of larger bulk carriers such as Panamax and Capesize vessel types. For ore bulk oil carriers (OBOs) and ore oil (OO) carriers, hatch covers are designed to withstand internal liquid loads. They are used whenever deck space allows, when there is no such space, folding-type hatch covers are used.
Side-rolling hatch covers stow in a transverse direction. For open hatch bulk carriers (OHBCs), rolling covers of the piggy-back type are preferred if the deck allows little or no free space for stowing the covers when the hatches are open.
A traditional side-rolling cover consists of two panels per hatch, each panel rolling sideways on a pair of transverse ramps. This minimises obstacles to be considered by the shore crane or other loading/unloading device operator when loading and unloading. Our side-rolling hatch covers can have a variety of different drive systems. The two main options are rack-and-pinion or chain-drive.
The main variables in side-rolling hatch cover designs are the drive system, the lifting system and the cleating system, which usually depends on the specified lifting system – Roll-up-Roll (with auto cleats) or wheel lifters (with manual cleats).
Key features
For single and double panel solutions; depending on the available deck space, VLOCs come with a single panel.
Hydraulic or electric-drive lifting operations
Rack-and-pinion or chain-drive types
Manual or auto-cleating systems
Bearing pads for ease of installation and to minimise friction and wear
Reliable sealing solutions to match hull deformations
Adjustable fittings (to compensate for wear)
High-quality components for a long service life
Standardised well-proven design and spares
Read more from our brochures:
Cargo handling book
Rolling types for combinations and dry bulk carriers
Rolling Types for Combination and Dry Bulk Carriers brochure