Port cranes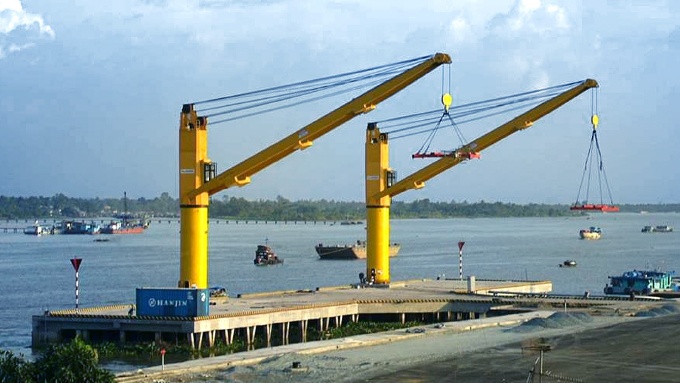 MacGregor port cranes are a perfect solution for small and medium-sized ports. Their investment cost is low when comparing lifting capacity, tonnes per hour, energy consumption and expected running hours per year. With high cargo efficiency, the MacGregor port cranes deliver high performance in port.
This is backed-up by our lengthy experience, unrivalled global service support and proven track record of more than 13,000 crane deliveries worldwide over the past 50 years.
MacGregor port cranes are designed to handle bulk cargo, containers and general cargo. They can be fixed, mounted to a jetty or quay on a pedestal or gantry or on a travelling gantry. Cranes can be equipped with various tools, depending on the specific types of cargo that they will handle. GL, GLE, GLB, GLBE, K4, and LC cranes are used for port crane applications.
General design
MacGregor offers wire-luffing or cylinder-luffing crane types. Wire-luffing cranes can use either an electro-hydraulic or pure electric system with a variable frequency drive (VFD). Cranes are self-contained units and all machinery inside crane house is weather-protected from dust, corrosion and damage.
Cranes are designed to fulfil A5 crane classification according the FEM-classification (Federation Europeenne de la Manutention).
Control system – CC3000
The MacGregor CC3000 control system ensures smooth, fast and stepless crane control and continuously provides the driver with real-time weight and outreach data. It delivers excellent monitoring capabilities and integrated diagnostic functions.
Read more from our brochures:

Cranes for all shiptypes
Cargo handling book
Port crane datasheet